Endymion Guesthouse Passive House Project Ontario - Large Residential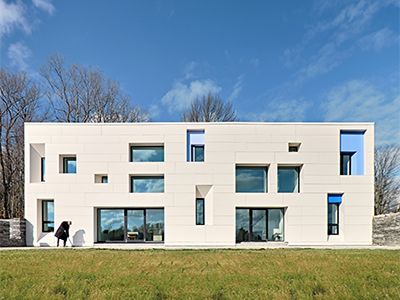 Endymion is part of a country family estate located in Prince Edward County, ON. The vision of this project was that the owners live and entertain in their lake front 'great house' while retaining the opportunity to redirect their guests to their own private quarters in the guest-house. This allows everyone to wake up in their own private zone on the following day.
Endymion will use approximately 90% less thermal energy than a conventional Ontario Building Code compliant residence.
Fast Facts:
3,700 SF, 4 bedroom plus 2 convertible dens, multi-adaptable, multi-generational guest-house
A rural villa, informed by nature, inspired by mythology & built to Passive House Standards
Designed as an all concrete structure for maximum efficiency and economy on three levels
This Passive House can be occupied by one family or up to four different families
R100 roof, R52 wall, R40 under slab insulation with whole house air seal tested to 0.3ACH
South wall 1M deep to create sculpted deep cavity window ports for max solar energy capture
Legalett Products Used:
Project Partners:
Kearns Mancini Architects Inc.
Fox Blocks ICF
Bonwest Limited (GC)
Endymion Guesthouse Passive House Project ON Photo Gallery
​